What AppCoiner Is – Is It Legit? AppCoiner claims it is an easy way for you to make money by testing apps and giving feedback about them through writing short reviews. But is AppCoiner a scam, or is it really a great and legit way to get paid for sharing your opinion?
Let me reveal right away that there are many things you are not told, and what you will get is quite different from what the sales page promises.
This AppCoiner review will reveal all the details, so you know what you are getting into before joining.
---
AppCoiner Review – Overview
Product Type: Affiliate Marketing Platform
Product Owner: Unknown
Product Price: $27 + Upsells
Created: 2014
Best For: No one except people with SEO Experience
Money-Back Guarantee: 60 days
Recommended: NO
Website: appcoiner.com


---
Upsells
Upsells 1 – $9.95 (20 ways to make $100 per day online)
Upsell 2 – $97 (AppCoiner Express Pass VIP Membership
Upsell 3 – $27 (Done for you 50 apps review articles)
Upsell 4 -$47 (Launch a digital product business program


---
How Does AppCoiner Work?
Grab a mobile phone or a tablet.
Choose an app from the App coiner database.
Test it on the device you're using.
Login to your Appcoiner account.
Write down your honest opinion about the app on your website – you'll own a website, but you don't need to worry about creating it. Leave that to Appcoiner – the platform will take care of it and it will host it on its platform.
People will land on your post and read it.
Make money – Appcoiner will monetize the traffic your review will attract through affiliate marketing.
Repeat the process with as many apps as you like.


---
How To Make Money From AppCoiner?
Currently, there are three ways to profit from the website you'll receive from the Appcoiner:
Banner Ads – the product will fill your site with banner ads of money-making offers the readers might like. These banner ads will contain your unique affiliate ID. When a visitor clicks on a banner and completes a purchase, you'll earn an affiliate commission.
Email Opt-Ins – your site will have an opt-in form that prompts the audience to discover other mobile apps. After a reader subscribes to receive the incentive, Appcoiner will send it for you. Later on, the platform will keep sending emails to the visitor. Those emails will be about relevant affiliate offers that contain your affiliate ID. If the person places an order, you'll once again make an affiliate sale.
App Download Buttons – Appcoiner will add them to each of your reviews. When the visitors click on them, that person will land on a page with more banner ads that contain your affiliate ID.


---
What Supposedly Is Included In The Program
Appcoiner is an online platform that pays individuals for testing applications and helping such applications to be found by testing the applications and posting reviews about their experience with such applications on the Appcoiner platform by granting them exclusive membership positions.
Appcoiner offers users a special web link that's connected with a particular application which the user wants to assess, this link is an affiliate link and when an individual reads your evaluation and also click the web link offer, you get paid when the individual makes an in-app purchase.
---
High Refund Rates, Unknown Creators And Linked To Similar Products
AppCoiner used to be available on a website ClickBank (it is an affiliate marketing program with lots of products) but it is not available there anymore.
Why is that? They have removed many products due to the high rate of refunds. Products like this have a tendency to resurface under other product names and small changes to the product itself. However, the concepts and the creators are the same behind in those products.
It seems to be the case with AppCoiner as well.
I couldn't figure out what company is behind the website or who the owner is. The only information I was able to get is that the company is based in New York, but obviously they are global platforms.
What is interesting is that in the Support section of AppCoin, the text goes "Paid Social Media Jobs
What makes this even more suspicious is that this product is the same concept as WriteAppReview.com Both WriteApppreview and AppCoiner has unknown owner and both is tied to Paid Social Media Jobs.
---
The Beauty And The Ugly
Because AppCoiner is identical to the WriteAppReview platform, it has exactly the same pros and cons.
AppCoiner Pros
You will get a done-for-you app review website
When you purchase the product, you will get a website ready for you to publish reviews and drive traffic. If you are not a technical person, this will help you get started right away.
The Guidance is Step-by-Step
The guidance inside the platform is quite clear. You will be able to follow the instructions step-by-step and build a review site.
The Cost of AppCoiner is Affordable
AppCoiner front end offer is just $27, which is very cheap. It's true that there are many upsells after you enroll, but those are optional and you may not need to take them.
There is a 60-day Money-Back Guarantee
This product is removed from ClickBank. According to AppCoiner, you have
60-day Money-Back Guarantee. However, can you be sure you get the money back if there is unknown creator and support?
AppCoiner Cons
The sales funnel is filled with hidden upsells
This is annoying for some people and they get skeptical just because of the upsells. However, this is very common in the industry and not any indication of a bad product itself.
Promotional and sales material over hyped.
The product does not have information about the creator
This is my one of my biggest concern. Why hide their identity if the program is legit? how does it affect customer service? Did the creator had a bad product before and trying to hide it under a different name?
No information about the website hosting service
How is the website security? How fast is it? does it work on every platform?
There is no comprehensive SEO training available
If you don't know how to use SEO, you will never rank well for reviews.
One affiliate link
Generic website
$27 isn't actually the real cost of the program.
On the sales page, you used to be able to see a calculator that was supposed to give you an idea about how much you can earn on AppCoiner. The calculator is removed, but was used before to give you an impression on how easy it is to make money with AppCoiner.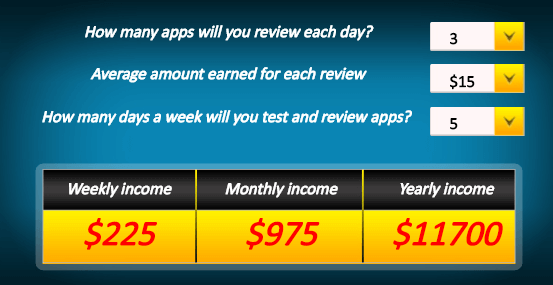 This is misleading information, because you don't get paid for the reviews itself, but the traffic and downloads through your link.
---
Final Words
AppCoiner Review – Overview
Product Type: Affiliate Marketing Platform
Product Owner: Unknown
Product Price: $27 + Upsells
Created: 2014
Best For: No one except people with SEO Experience
Money-Back Guarantee: 60 days
Recommended: NO
Website: appcoiner.com
Because the owner is unknown and one of the upsell is another product, which has a bad reputation, I can't recommend this product at all. The lack of marketing strategies makes this a product that is not worth the money in my opinion. It's an affiliate marketing product and there is way better options out there.
Where You Should Begin Your Journey
Don't worry. I will guide you in the right direction. Just Reach Out To Me Anytime! Follow people who have already achieved their core desire. Don't reinvent the wheel. Don't work harder. Work smarter!
Another advice that I want to share with you is to invest in systems that gives you the core elements on how to make money online.
I have support from established entrepreneurs in all kinds of field from all over the world! Are you smart enough to learn and let someone teach you how you can achieve your core desire?
---
Before You Leave…
This will complete the post. I hope you have actually discovered a bit more about different opportunities and can make a much better decision whether those services can assist you and your financial resources or not.
Have you ever tried out, or any comparable service before? I wish to become aware of your experience by commenting below.
If you decide to jump on board and join my team, I will hold your hand and guide you whenever you're stuck. You'll never be alone!
Click Here To Find Out About One Of The Best Methods To Start Making Money Online!
If you like this post, leave me a comment below and share it with your friends, family members and colleagues as well.
If you have any questions or thoughts about the topic, please, don't hesitate to leave me a comment below. I will replay as soon as possible.
All The Best,
---
Disclosure
This page may contain links to affiliate websites, and I may receive an affiliate commission for any purchase made by you on the affiliate website using such links. This commission will in no way change the cost to you. As an Amazon Associate I earn from qualifying purchases.
Disclaimer This website is owned and operated by an independent affiliate and is not endorsed by any company or individuals. Any opinions expressed on this website are made by and the responsibility of the owner only. Statement and opinions should not be construed as a representation of the opinions of any company or other individuals.
Income Disclaimer There are no guarantees regarding income from the any of the products or the opportunities represent on this website. The success or failure of each affiliate, like in any other business, depends upon each affiliates skills and personal effort. Earning levels for independent affiliates are examples and should not be construed as typical or average. Income level achievements are dependent upon the individual Affiliates business skills, personal ambition, time, commitment, activity, and demographic factors.