This is a Rich Dad Poor Review. Rich Dad Poor Dad: What the Rich Teach Their Kids About Money That the Poor and Middle Class Do Not!
by Robert T. Kiyosaki (Author)
It's been nearly 25 years since Robert Kiyosaki's Rich Dad Poor Dad first made waves in the Personal Finance arena. It has since become the #1 Personal Finance book of all time… translated into dozens of languages and sold around the world.
Rich Dad Poor Dad is Robert's story of growing up with two dads — his real father and the father of his best friend, his rich dad — and the ways in which both men shaped his thoughts about money and investing. The book explodes the myth that you need to earn a high income to be rich and explains the difference between working for money and having your money work for you.
In the 20th Anniversary Edition of this classic, Robert offers an update on what we've seen over the past 20 years related to money, investing, and the global economy. Sidebars throughout the book will take readers "fast-forward" — from 1997 to today — as Robert assesses how the principles taught by his rich dad have stood the test of time.
In many ways, the messages of Rich Dad Poor Dad, messages that were criticized and challenged two decades ago, are more meaningful, relevant and important today than they were 20 years ago.
As always, readers can expect that Robert will be candid, insightful… and continue to rock more than a few boats in his retrospective.
Will there be a few surprises? Count on it.
---
Rich Dad Poor Dad…
• Explodes the myth that you need to earn a high income to become rich
• Challenges the belief that your house is an asset
• Shows parents why they can't rely on the school system to teach their kids
about money
• Defines once and for all an asset and a liability
• Teaches you what to teach your kids about money for their future financial
success
---
Key Takeaways/Lessons Learned
Six lessons Robert Kiyosaki learned from his Rich Dad about making money and the mistakes that Poor Dad made
Five obstacles to overcome before you can become rich and stay rich
Ten steps to follow to develop your financial genius
Actionable to-do steps you can put to work right away
Chapter/Section Summaries
Rich Dad Poor Dad contains a total of ten chapters plus the introduction, but much of the book is focused on the first six parts or lessons.
Introduction: Rich Dad Poor Dad
Chapter 1: The Rich Don't Work for Money
Chapter 2: Why Teach Financial Literacy?
Chapter 3: Mind Your Own Business
Chapter 4: The History of Taxes and the Power of Corporations
Chapter 5: The Rich Invent Money
Chapter 6: Work to Learn – Don't Work for Money
Introduction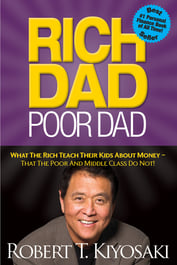 Robert Kiyosaki, author of Rich Dad Poor Dad, had two main influential fathers in his life.
Poor Dad was Kiyosaki's biological father, a man who was highly intelligent and very well-educated. Poor Dad believed in studying hard and getting good grades, then finding a well-paying job. Yet, despite these seemingly positive attributes, Poor Dad didn't do well financially.
Rich Dad was the father of Kiyosaki's best friend. He had a similar work ethic to Kiyosaki's real dad, but with a twist. Rich Dad believed in financial education, learning how money works, and understanding how to make money work for you. Although he was an eighth-grade dropout, Rich Dad eventually became a millionaire by putting the power of money to work for him.
The book is written from Kiyosaki's perspective of how Rich Dad went about making money and the mistakes that Poor Dad made. The first six chapters of Rich Dad Poor Dad make up about two-thirds of the book and discuss the six lessons that Kiyosaki learned from his Rich Dad.
---
Rich Dad Poor Dad Summary
"There is a difference between being poor and being broke. Broke is temporary. Poor is eternal."
"Money comes and goes, but if you have the education about how money works, you gain power over it and can begin building wealth."
"People's lives are forever controlled by two emotions: fear and greed."
"So many people say, 'Oh, I'm not interested in money.' Yet they'll work at a job for eight hours a day."
"Thinking that a job makes you secure is lying to yourself."
"Intelligence solves problems and produces money."
"You must know the difference between an asset and a liability, and buy assets."
An asset puts money in your pocket. A liability takes money out of your pocket.
"Illiteracy, both in words and numbers, is the foundation of financial struggle."
"Money often makes obvious our tragic human flaws, putting a spotlight on what we don't know."
"Cash flow tells the story of how a person handles money."
"Most people don't understand why they struggle financially because they don't understand cash flow."
"The number-one expense for most people is taxes."
Higher incomes cause higher taxes. This is known as "bracket creep."
"More money seldom solves someone's money problems."
"The fear of being different prevents most people from seeking new ways to solve their problems."
"A person can be highly educated, professionally successful, and financially illiterate."
"Many financial problems are caused by trying to keep up with the Joneses."
Once you understand the difference between assets and liabilities, concentrate your efforts on buying income-generating assets.
"The problem with simply working harder is that each of these three levels takes a greater share of your increased efforts. You need to learn how to have your increased efforts benefit you and your family directly."
"Wealth is a person's ability to survive so many numbers of days forward—or, if I stopped working today, how long could I survive?"
"The rich buy assets. The poor only have expenses. The middle class buy liabilities they think are assets."
"The rich focus on their asset columns while everyone else focuses on their income statements."
"Financial struggle is often directly the result of people working all their lives for someone else."
"The mistake in becoming what you study is that too many people forget to mind their own business. They spend their lives minding someone else's business and making that person rich."
"To become financially secure, a person needs to mind their own business."
"Financial struggle is often the result of people working all their lives for someone else."
"The primary reason the majority of the poor and middle class are fiscally conservative—which means, 'I can't afford to take risks'—is that they have no financial foundation."
"One of the main reasons net worth is not accurate is simply because, the moment you begin selling your assets, you are taxed for any gains."
"A new car loses nearly 25 percent of the price you pay for it the moment you drive it off the lot."
"Keep expenses low, reduce liabilities, and diligently build a base of solid assets."
Kiyosaki says he owns business that do not require his presence. "If I have to work there, it's not a business. It becomes my job."
---
According to Kiyosaki, real assets fall into the following categories:
Stocks
Bonds
Income-generating real estate
Notes (IOUs)
Royalties from intellectual property such as music, scripts, and patents
Anything else that has value, produces income or appreciates, and has a ready market
"For people who hate real estate, they shouldn't buy it."
Kiyosaki generally holds real estate for less than seven years.
Start minding your own business. Keep your daytime job, but start buying real assets, not liabilities.
When Kiyosaki says mind your own business, he means building and keeping your asset column strong. Once a dollar goes into it, never let it come out.
"The best thing about money is that it works 24 hours a day and can work for generations."
"An important distinction is that rich people buy luxuries last, while the poor and middle class tend to buy luxuries first."
"A true luxury is a reward for investing in and developing a real asset."
Kiyosaki's rich dad did not see Robin Hood as a hero. He called Robin Hood a crook.
"If you work for money, you give the power to your employer. If money works for you, you keep the power and control it."
"Each dollar in my asset column was a great employee, working hard to make more employees and buy the boss a new Porsche."
---
Kiyosaki reminds people that financial IQ is made up of knowledge from four broad areas of expertise:
Accounting
Investing
Understanding markets
The law
"A corporation earns, spends everything it can, and is taxed on anything that is left. It's one of the biggest legal tax loopholes that the rich use."
"Garret Sutton's books on corporations provide wonderful insight into the power of personal corporations."
"Often in the real world, it's not the smart who get ahead, but the bold."
Kiyosaki sees one thing in common in all of us, himself included. We all have tremendous potential, and we all are blessed with gifts. Yet the one thing that holds all of us back is some degree of self-doubt.
In Kiyosaki's personal experience, your financial genius requires both technical knowledge and courage.
Kiyosaki always encourages adult students to look at games as reflecting back to them what they know and what they need to learn.
"Games reflect behavior. They are instant feedback systems."
"Financial intelligence is simply having more options."
"The single most powerful asset we all have is our mind. If it is trained well, it can create enormous wealth."
"The world is always handing you opportunities of a lifetime, every day of your life, but all too often we fail to see them."
Richard uses two main vehicles to achieve financial growth: real estate and small-cap stocks.
"Simple math and common sense are all you need to do well financially."
"The problem with 'secure' investments is that they are often sanitized, that is, made so safe that the gains are less."
"It is not gambling if you know what you're doing. It is gambling if you're just throwing money into a deal and praying."
"Most people never get wealthy simply because they are not trained financially to recognize opportunities right in front of them."
"Great opportunities are not seen with your eyes. They are seen with your mind."
"You want to know a little about a lot" was rich dad's suggestion.
"Job is an acronym for 'Just Over Broke.'"
"Look down the road at what skills they want to acquire before choosing a specific profession and before getting trapped in the Rat Race."
"Education is more valuable than money, in the long run."
"The reason so many talented people are poor is that they focus on building a better hamburger and know little to nothing about business systems."
---
The main management skills needed for success are:
Management of cash flow
Management of systems
Management of people
"The most important specialized skills are sales and marketing."
"To be truly rich, we need to be able to give and to receive."
"Giving money is the secret to most great wealthy families."
"The primary difference between a rich person and a poor person is how they manage fear."
---
There are five main reasons why financially literate people may still not develop abundant asset columns that could produce a large cash flow. The five reasons are:
Fear
Cynicism
Laziness
Bad habits
Arrogance
"For most people, the reason they don't win financially is that the pain of losing money is far greater than the joy of being rich."
"Failure inspires winners. Failure defeats losers."
"Real estate is a powerful investment tool for anyone seeks financial independence or freedom."
"A great property manager is key to success in real estate."
"The most common form of laziness is staying busy."
"Rich dad believed that the words 'I can't afford it' shut down your brain. 'How can I afford it?' opens up possibilities, excitement, and dreams."
"Whenever you find yourself avoiding something you know you should be doing, then the only thing to ask yourself is, 'What's in it for me?' Be a little greedy. It's the best cure for laziness."
Many people use arrogance to try to hide their own ignorance.
"There is gold everywhere. Most people are not trained to see it."
"To find million-dollar 'deals of a lifetime' requires us to call on our financial genius."
A reason or a purpose is a combination of 'wants' and 'don't wants.'"
"Most people simply buy investments rather than first investing in learning about investing."
Richard believes one of the hardest things about wealth-building is to be true to yourself and to be willing to not go along with the crowd.
"The rich know that savings are only used to create more money, not to pay bills."
"The sophisticated investor's first question is: 'How fast do I get my money back?'"
If Richard could leave one single idea with you, it is that idea. Whenever you feel short or in need of something, give what you want first and it will come back in buckets.
---
In the world of accounting, there are three different types of income:
Ordinary earned
Portfolio
Passive
If You Want To Buy Rich Dad Poor Dad, Click Here!
Where You Should Begin Your Journey
Don't worry. I will guide you in the right direction. Just Reach Out To Me Anytime! Follow people who have already achieved their core desire. Don't reinvent the wheel. Don't work harder. Work smarter!
Another advice that I want to share with you is to invest in systems that gives you the core elements on how to make money online.
I have support from established entrepreneurs in all kinds of field from all over the world! Are you smart enough to learn and let someone teach you how you can achieve your core desire?
---
Before You Leave…
This will complete the post. I hope you have actually discovered a bit more about different opportunities and can make a much better decision whether those services can assist you and your financial resources or not.
Have you ever tried out, or any comparable service before? I wish to become aware of your experience by commenting below.
If you decide to jump on board and join my team, I will hold your hand and guide you whenever you're stuck. You'll never be alone!
Click Here To Find Out About One Of The Best Methods To Start Making Money Online!
If you like this post, leave me a comment below and share it with your friends, family members and colleagues as well.
If you have any questions or thoughts about the topic, please, don't hesitate to leave me a comment below. I will replay as soon as possible.
All The Best,
---
Disclosure
This page may contain links to affiliate websites, and I may receive an affiliate commission for any purchase made by you on the affiliate website using such links. This commission will in no way change the cost to you. As an Amazon Associate I earn from qualifying purchases.
Disclaimer This website is owned and operated by an independent affiliate and is not endorsed by any company or individuals. Any opinions expressed on this website are made by and the responsibility of the owner only. Statement and opinions should not be construed as a representation of the opinions of any company or other individuals.
Income Disclaimer There are no guarantees regarding income from the any of the products or the opportunities represent on this website. The success or failure of each affiliate, like in any other business, depends upon each affiliates skills and personal effort. Earning levels for independent affiliates are examples and should not be construed as typical or average. Income level achievements are dependent upon the individual Affiliates business skills, personal ambition, time, commitment, activity, and demographic factors.