I need to address some really important things to you all. It's about people screaming scams and lack of trust in products online that will help you to make money online.
Look, I have been talking about this topic before, guess what?
I'm going to talk about it again, again and again until people stop throwing out the word scam and they don't say they don't recommend the product.
---
I Don't Recommend This Product
One thing is that if the product doesn't deliver what it's supposed to. If the product doesn't give you the training, or the service you pay for.
But guess what? Most of them actually do.
But you expect more than that and you are never going to be satisfied and still going to give scam report on your reviews just to get traffic to your website and have content to write about.
And you are still going to promote your number one recommendation to earn your commission!
Why? because its all boils down to the commission! Those people tend to put up their review in the same fashion, using the same template to represent the review and gulping up the same words they try to give their "honest" opinion to help you and leading you to a product that guarantee you that will work.
Their #1 recommendation. Sounds familiar? We all do this. It's marketing. We all want to earn our commissions. Me too!
---
But we need to keep in mind that the reason why there is so many products out there which is basically the same product, but with different colors to it is because peoples demands changes.
The methods change, the way of how to promote a product change, the technology change and the internet change.
Sure, we all can find out how to do internet marketing online for free, how to set up an autoresponder for free, how to write quality content for free, how to make a website for free, how to get traffic for free. We can do all this for free! Zero dollars!
But we are lazy! We always strive for making it better, do something different so we can make even more money!
And we pay 1000s of dollars to achieve it. Yet we been presented a solution in our faces, we claim it doesn't work…. It's a scam.
We need to write a product review of the new ways, just to promote our products we already are part of to make our commissions.
Let's look deeper in how things really is, shall we?
 The Research Phase And The Discoveries
The Research Phase – You head over to Google and start searching for things like "Wealthy Affiliate review", "is wealthy affiliate a scam" or similar search phrases.
What you find is initially encouraging. It appears there are hundreds of reviews about Wealthy Affiliate, and every single one of them are overwhelmingly positive.
Every one of the reviews turns into a giant sales pitch…..
Have you ever thought about why there are so many positive reviews of Wealthy Affiliate?
When you read the articles, it's just people saying how wonderful it is.
Congratulations, you've discovered the Wealthy Affiliate scam. It's not really a scam in the traditional sense.
We need to repeat this, scam is if you don't get a product, or a service you don't pay for. Are we clear? Good. Let's move on.
---
Is Wealthy Affiliate A Scam?
When you sign up for Wealthy Affiliate, you actually are getting a quality product from a company that has been around since 2005.
Here is where things get a little "scammy" Anyone who ends up joining Wealthy Affiliate, even with a free starter account, automatically becomes an affiliate for Wealthy Affiliate.
What that means is, the day someone joins Wealthy Affiliate, they have a financial incentive to get YOU or anyone else searching for the program to sign up.
If you click on their affiliate link to, and end up upgrading to a premium account (which costs money), they earn a commission off of you.
In addition, Wealthy Affiliate teaches people how to rank sites highly in Google for specific search terms that is related.
That means, just about all the reviews that you're reading are essentially PAID ENDORSEMENTS.
The reviews are not unbiased reports about Wealthy Affiliate.
The people writing those reviews and scam reports have a financial incentive to convince you that Wealthy Affiliate is NOT a scam, and that it's the greatest thing ever.
They want your money. So, here's the bottom line: Wealthy Affiliate does in fact offer a quality product.
However, the marketing methods used COULD be considered scammy, depending on your point of view.
---
Is Michael Cheney A Fraud?
Then we move on to products many reviewers refer to when it comes to poorly products.
Yes I'm talking about Michael Cheney's Commission Machine, Commission Cartel and so on. And at least, the holy grail The 7-Figure Franchise!
We look at big claims from this gentleman. And very specific numbers. It must be a scam. It's too good to be true!
"how to make $3246.57/day in your spare time. (Even if you are newbie)
" Earn up to $2642 per day with this little known super affiliate secret weapon"
"I'm making $1442.29 in commissions a day with these methods I'm about to show you"
"You don't need a list for this. You don't need a website. This going to work even you are a newbie."
"I'm going to force you to make money, either you like it or not"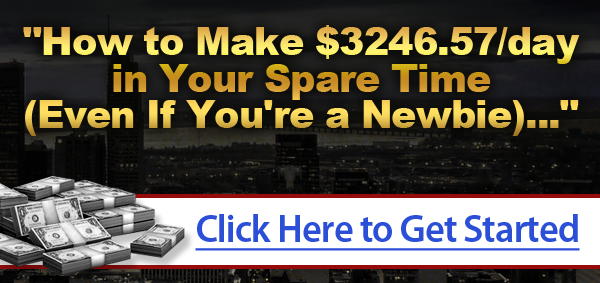 All those numbers are true. They are true for Michael. It's his numbers and it's how much he has made by applying the methods. You can reach those numbers too.
But only after you have worked your butt of, apply the methods years after years and build your list accordingly.
But you said I don't need any list, website or skill level. Even I could start to make money today.
Yes it's true! You don't need it when you start out. Michael give you a link. You promote the link and you get commissions.
Michael show you how to do this step by step. You get what you pay for.
This is what kind of training you get
traffic sources
promos to use
other products that can help you out in your business.
If you pay for it he show you how the whole process. How to make a freebie, how to set up an autoresponder, how to write sales letters how to make your own email list, how to email your list how to make your own products to sell and how to sell it.
He basically give you all this
Product creation
Market research
Split -testing
Email marketing
Done for you promos
Opt in pages that converts
members area
Email follow up
And a lot more cool stuff that will give you the best chance of success.
---
Sure he must be a big scam artist that have managed to make 7 figures online and teaching people through video calls, provides you with webinars and so on. And of course live seminars as well.
He must be a super affiliate scam artists who have make it scam people for over 20 years….
---
I Have A Confession To Make
I'm also an affiliate marketer for Wealthy Affiliate! Yes, Michael Cheney's products too!
I created this website to be a "no B.S." resource for people who are into make money online. And offline too.
I focus mainly on affiliate marketing, because it's one of the best and easiest ways to make money online. I'm not going to B.S. you on this page, either.
Any link you see on this page to Wealthy Affiliate, or other pages throughout my website with a link includes my affiliate code.
If you sign up, I may be financially compensated.
Yes, this goes for Michael Cheney's products as well many others. So doesn't that mean I'm biased? Yes! It absolutely does!
So shouldn't people be skeptical of this entire article? And how I operate my entire website and my online business?
YES!!! That's what I've been trying to tell you!
That's how those affiliate marketing scam works! I'm just the only one being 100% honest about it.
Do I want to make money off of you, too? Of course, I do!
All affiliate marketers, all reviewers all products online is scams. So be a scammer you too and start to make money!
---
This Is For You!
If you are interested in my latest articles, recommendations and reviews, all you have to do is sign up with your email address below.
As a big thank you, I will give you this for FREE!
---
I will give you all this for FREE!
Free ebooks covering the following:
Traffic Types (free methods and paid)
Convertion Rate Optimization (CRO)
Links to my recommendations of products and tools
Time Management
What you should be aware of
How to make your business planSteps to take to make money
And much more goodies!
Are YOU An Adventurer? Click The Banner Below!

All the best,
Fred Eimhjellen, founder of resourceformoney.com