How To Get Traffic To A Website? There are many ways to generate traffic and leads to your website. There is two kind of traffic.
Paid traffic and free traffic. When it comes to free traffic, you need to trade in lots of your time and hard work!
Not all of them will work well for every business, and some may not work at all. Using the best traffic-generating strategies can help you increase your business in no time.
There are two ways to get traffic to your website or to your product/services. Payed traffic, or free traffic. Instant and targeted, or slow and steady. You want to have your focus on warm traffic. This is traffic ready to buy, or at least subscribers interested in what you have to offer.
This includes subscribers on your email list, SEO traffic and re-targeted traffic through Facebook pixel and Google pixel.
Cold Traffic in the other hand, is traffic you get through payed ads on Google or Bing for example. They are not ready to buy yet, but rather click on the content of curiosity.
To really make it as an affiliate marketer, you need both! For the sake of the topic, we split this article into two parts. One part which goes into paid traffic, and the next part will cover free traffic.
---
What Is Payed Traffic?
Paid traffic: Paid traffic generally refers to buying traffic from advertising network. Paid traffic is highly targeted as an affiliate (advertiser on traffic sources) target their audience based on several factors and can place their advertisement on targeted sites.
This helps in receiving laser targeted traffic fast and producing high quality conversion. Paid traffic can be classified into several categories based on the type of advertisement, bidding model, type of traffic which is generated
You need to know how to convert paid traffic into sales, or you throw money out of the window. It's important to be as targeted with paid traffic as possible to get value for the money.
If you have golf as your niche, then this is too broad. We need to be as specific and targeted as possible.
It's not enough to go for "Driver review."
Instead, do this….
"Review of Callaway XR Driver. 10.5 degree. Fujikura Speeder 565 A-Flex. Right Handed.
Payed Traffic
Pay-per-click (PPC) advertising is one of the oldest ways of generating traffic to your site. PPC is an internet advertising model which is charged for every click/visit which is sent to the advertiser's website for related search query/keyword.
These ads are generally shown on search engines when a user types any query/keyword and searches for it. The advertisement with the highest bids is shown alongside search results and when a user clicks on those ads, they are redirected to the advertiser's website.
Google is the leading search engine on the net and acquires the highest volume of search market shares followed by bing, yahoo, ask & aol. All the search engines follow the pay-per-click advertisement model.
Google Adwords: Google adwords is the advertising program which show keyword/query specific advertisement on Google search engine result pages and also on publisher's websites which is affiliated with Google Adsense.
With over 63% of total search market share, Google Adwords is the most popular advertisement platform online due to immense amount highly targeted traffic. Supported advertising model by Google Adwords are CPC (Cost-per-click), CPM (Cost-per-impression), CPA (Cost-per-action), Re-targeting, Pay per call, Local ads etc.
Bing Ads: Bing Ads from Microsoft is similar to Google Adwords. Bing now has 1/3rd of total US desktop search volume according to comScore but for rest of the countries the search volume is quite low. Generally, Bing can provide 1/10th of total Google search traffic (worldwide).
Even though the traffic volume is low on Bing Ads but the traffic quality if quite high and cheap as compare to Google Adwords. On top of that Bing Ads is very affiliate friendly.
Yahoo Gemini: Yahoo Gemini allows advertising on Yahoo which has over a billion of visits every month for search, news, email etc. Yahoo Gemini is a self-serving advertising solution and allows advertisers to harness the power of both search & native advertisement from one single interface. Search ads will appear on search results page and native ads will appear on yahoo.com and its networking sites.
Baidu: Baidu is the popular Chinese search engine. Global search market share is very less but for china it has a total search market share of over 70%. Perfect advertising solution for Chinese audience.
Yandex Advertising: Yandex is the largest search engine in Russia and has a search market share of over 50%. It is not a self-serve advertising platform and has huge volume of traffic targeting only Russian audience. So, if you want to promote something on Russian market then Yandex can get you good traffic and it's fairly cheap.
7Search: 7Search is an independent & transparent search advertisement network, which shows ads on it own search engines and network sites. It has its own audience and not dependent on other biggies like Google or Bing. CPC for keywords are really cheap and &search; is transparent enough to show bidding position and everyone's bid amount.
---
Retargeting Traffic With FB And Google Pixel
The Facebook pixel is code that you place on your website. It collects data that helps you track conversions from Facebook ads, optimize ads, build targeted audiences for future ads, and re market to people who have already taken some kind of action on your website.
It works by placing and triggering cookies to track users as they interact with your website and your Facebook ads. If you have a website, you can attach a FB pixel, or a Google pixel
For advertising at Facebook you can fill in demographic, gender, age group, and so on. Master all those options and know your buyers', then you are in good condition to get targeted traffic and value for your money.
---
Conversion Rate Optimization (CRO)
CRO is essential for paid traffic! In general the conversion rate is 1.% If you get 100 people to your product, you get one paying customers.
CRO is the process of enabling people to take an action when they visit a website. By designing and modifying certain elements of a web page, a business can increase the chances that site visitors will "convert" into a lead or customer before they leave.
A good conversion rate optimization campaign not only means saving high on your time, money, and efforts but also exploring new growth strategies which were unknown in the past.
Throughout the journey of a CRO process, a marketer will encounter six primary elements which can be optimized. This is a whole article for itself, so I won't go into any details about this. The elements are listed below.
Landing page design
Website Copy
-Header
-Body
formatting
-Content Writing
Call To Action
Navigation And Site Structure
Forms
Page speed


---
Free traffic
Email marketing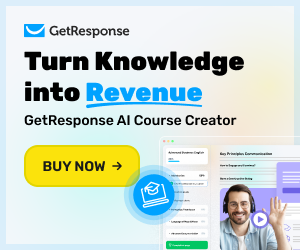 but you can update your subscribers with useful content and information about your business. This building trust and are essential for further business relationship.
Email Marketing is your direct line to your customers. It maximizes profit through repeat customers, because they learn to trust you and your brand.
It takes 7 times before a customer are presented to an offer before they buy. You have the possibility to increase that exposure throughout email campaigns and email broadcasts. Email Marketing will grow your business faster than any other marketing medium! I use and recommend GetResponse.
SEO – Free organic traffic
Have Conversion Rates Optimization in mind here as well.
You should do these steps on every single post you do.
Have your keyword in the first 100 words. If you're doing best IPhone 2020, you'll want to at least use the term "best IPhone" in the introduction.
Link out to trusted websites. Not just Amazon. You should aim to link out to 4 to 6 known websites every post. This shows Google your active in the community and trustworthy.
Link to your own content. This is called internal linking and each post should have 3 internal links to your own content. This helps Google rank your content quicker and rank higher. So when you post "Best IPhone 2022" go back to older content and create a link. Add a new paragraph somewhere when you do this to get Google's attention.
Make sure your content is visually pleasing and easy to read. Use bullet points pictures and short paragraphs. Make sure you sentences are concise as well.
Write naturally and don't keyword stuff. You don't want to use the term "IPhone" over and over and over again


---
What You Should Focus On With Your Content
Give, give, give, take. Give the more you take. Always keep in mind to help your prospects. Don't focus on what the product does, but more on how it can help to make the buyers' life easier.
There is so much more to cover when it comes to traffic. I have only scratched the surface here. This is just a taste and more than enough to get traffic to your website or your product.
You get traffic with consistency. People trust you more. And are more likely to buy from you.
When it comes to traffic it's easy, but hard at the same time. When it comes to paid traffic methods, I strongly recommend a trusted solo ad provider or ads on social media. When it comes to free traffic, I recommend Wealthy Affiliate. This is a community with training courses how to build your own website, how to master SEO and Keyword research. They take care of the hosting for you. Plus you learn how to create quality content for your website.
---
Creating A Blog
Creating a blog is a great way to generate traffic. You can also increase blog traffic by joining social networks like Facebook and LinkedIn. This will help you build your brand and reputation.
Using a blog is also an effective way to increase search engine visibility.
Creating a blog that is visually appealing will attract more visitors. Ensure that the design of your blog is eye-catching and contains colors that will appeal to potential visitors.
It's also helpful to include pictures in your posts. They add authenticity to your posts and are especially useful if they are instructional in nature.
It's important to remember that a majority of website traffic is organic.
This means that you will have to work to acquire new visitors, but your existing visitors will return to your blog.
In addition, building an email list will help you build your traffic.
It's a good idea to subscribe to social media profiles, but remember that these channels have limited reach.
Every post you create should contain a call to action (CTA).
It could be as simple as asking readers to comment, share, or purchase.
Without a CTA, you'll miss out on tons of sales, leads, and traffic generation opportunities. This is the ultimate platform to create your own blog!
---
Creating A Community On Your Website
Creating a community on your website is a great way to create buzz about your website.
This strategy is popular among social networking websites that allow visitors to create their own content and participate in an online community.
They also benefit from word of mouth advertising, which is a great way to get your website in front of new visitors. However, you should not expect to build a community overnight. It takes patience and persistence.
Creating a community on your website will help your website build a brand and generate leads. You can start by establishing a forum for a specific niche.
An active forum will continually have fresh content, luring new visitors to your site. In addition, you can send notifications to your community members to encourage them to return to your site.
This will encourage new members to become members and help build your brand.
Community members will share your content with their friends. This will create additional traffic because your community content will appear in search results and social media.
However, community participation can be time-consuming, so it is important to consider incentivize people to participate. One way to encourage people to participate is to offer rewards and loyalty schemes to encourage participation.
---
Optimizing Your Website For Search Engines
The goal of website optimization is to attract real people to your site. This begins with identifying searches online. you can simplify it using a software tool to identify these.

There are a number of different steps to optimize a website, including the following:
The URL of your website is one of the first things that search engines look at. It's the first thing crawlers read on a page, so it's important to include one or two keywords. Make sure your URL is easy to remember.
This will help your visitors find it easier. Also, remember to include a meta description for every blog post. This description should include one or two keywords, and it should be long-tail.
While optimizing the content on your site is essential to gaining visibility, you'll also need to optimize specific pages for search engines.
This includes using keywords in the headline, URL slug, and meta tags. You'll also need to make sure your images are accessible and use alternative text to make them more accessible.
Using these strategies will increase the visibility of your website in search results, which is the ultimate goal.
Content Strategy
A content strategy is the planning and execution of a website's content.
It aims to make content usable, easily found and coherent, and to engage and motivate your target audience. It must consider multiple platforms and influences in order to achieve these goals.
When done properly, content can become a valuable marketing tool.
In addition to creating content, a content strategy helps to promote your website and maximize SEO rankings. It can also boost traffic and lead to conversions.
You can use several channels to promote your content, including social media, email, digital ads, and even postcards. Your content strategy should also be based on your audience's preferences.
It is vital to have a content strategy as soon as your digital marketing initiative starts. If you do not begin right away, your website may not be ready to capitalize on the growing traffic.
Having a content strategy in place from the start will make the process simpler and more effective.
Content marketing is a great way to attract more visitors and improve ROI. Keyword-rich content is a great way to attract customers.
In addition, your content should answer a customer's question or solve their problem. SEO and content marketing overlap.
Content Re Purposing
Content re purposing is a great way to boost traffic to your website.
Instead of just posting old content, re purpose it into a new format that will catch readers' attention.
Some examples of this include info graphics and curated content.
The key is to make each re purposed piece have an angle that's different from the original content and aligns with your marketing goals.
For example, you could turn a Quora question into a new blog post. Another option is to turn a blog post into an ebook. Either way, make sure the content is "evergreen."
Evergreen content is relevant year after year, so it will continue to pay off for years.
Content re purposing allows you to share your content in many different formats, which helps your audience remember it. In addition, it helps keep your content queue full.
Re purposing your content will help you reach new audiences, fill in content gaps, or even support your main organic traffic drivers.
To create multiple versions of a single piece of content, you need to break the content down into several parts and add details to it. This way, you can create multiple blogs, videos, and even podcasts.
This strategy is extremely useful for extending the mileage of your content and getting it in front of new audiences.
Content re purposing can be done by recording popular blog posts and submitting them to popular websites. In addition, you can embed a YouTube video or audio podcast to increase its SEO value.
Using content re purposing to get traffic to your website can widen your audience, save you time, and make every new piece of content worth more.
Content re purposing can also be used to create new income streams. Re purposing existing content into a new format can make it more accessible and appealing to different types of readers. After all, not everyone likes to read content, so re purposing your content in a different format will give your customers exactly what they want.
Another way to re purpose content to get traffic to a website is by sharing a new version of it on social media. You can share the headline of a new blog post on Facebook, or use a short quote from an article on Twitter. This makes it easy to create multiple social posts with just a few pieces of content.
Contests
One of the best ways to get traffic to your website is to hold contests. Contests are an excellent way to increase brand awareness and build engagement on social media.
However, contests can only get you traffic if you promote them aggressively on social media and on your website. By conducting a contest, you can reach organic traffic and first-time visitors who would not have visited your site otherwise.
Before launching a contest, you need to know what goals you have in mind. For example, do you want to get more website traffic or increase your social media following?
Depending on the goals you have, you may choose a different kind of contest. Moreover, make sure to choose the right prize. The prize should be relevant to the type of business you are trying to promote.
Contests can also be a great way to improve your website's SEO. For example, a Facebook photo contest or a YouTube giveaway can boost SEO by sending positive signals to search engines.
This way, more people will know about your website and become brand ambassadors. This will increase your visibility in search results, and your social media followers will be more likely to share your posts. Therefore, the contest will increase your SEO and boost your traffic.
Aside from driving traffic to your website, contests also help you to build a relationship with the participants. You can also track the results of the contest, whether the results are more engagement or more conversions. You can use the feedback to improve your contests in the future.
Giveaways
Giveaways are a cheap, easy, and efficient way to get more people looking at your website. They can also be used to build your social media following and email list.
This is especially useful if you have an opt-in form waiting for your new visitors. Giveaways can be useful tools for building your audience, and you can easily set up a contest to get started.
Before starting your giveaway campaign, decide your primary goal. Is it to build your email list or to drive traffic to your website? Choosing your goal will help you measure your success. In addition, it will also help you decide the best way to conduct the giveaway and maximize your results.
Depending on the nature of your giveaway, you can offer multiple prizes. This will help you attract more people to your website and increase your chances of gaining more sales.
Giveaways also give you the opportunity to promote other aspects of your business. For example, you can give people points if they read your blog post or leave a comment.
This will increase your traffic and keep them on your site longer, which means higher chances of conversion and lower bounce rate.
The more enticing the prize, the more likely people will participate in the contest. However, it is important to consider that the prize should be relevant to the audience. The prize must also align with the brand.
For example, a vegan cheese brand might give away a gift pack of BBQ meat rubs, or a popular makeup brand might provide an entire collection of makeup products.
Press Releases
Press releases are important tools to build your online presence and attract more traffic to your website. The more widely distributed your press release, the more likely you will be able to reach new customers.
Press releases can also lead to backlinks and increase your website's ranking in the search engines.
You can promote press releases using relevant backlinks and high-quality anchor text. Press releases can also be distributed to various online publications and media outlets.
When distributing your press release, make sure to include important information. Press releases are generally published on news sites, where readers may find them interesting and click through to your website.
When your release is published online, it can be shared on syndication sites to reach new audiences and increase website traffic.
Product Hunt, for example, is a website that allows users to share products and brands. Startup Drugz used this platform to drive 35,000 unique visitors to their online store.
Press releases should be concise and easy to understand. Make sure to include quotes from your company's leader.
A good press release will contain information about the company, contact information, social media accounts, and the press kit. In addition, remember to include your website link in the press release so that people can easily share it with their networks.
In order to create buzz, it is important to have a headline. A good headline should tell the reader what the content of the release is about. In addition, it should be relevant and encourage them to learn more. It should also include a call-to-action.
If you are new to the press release industry, be sure to read press release guidelines and be realistic with yourself. Press releases are not permanent and will not always bring in traffic.
Rather, they can lead to indirect value as long as they are unique and attention-grabbing. Generally, attention-grabbing press releases will get picked up by media outlets and be championed by others. This can also lead to referral traffic and golden links.
Press releases should be used to distribute newsworthy content, and they should complement other SEO tactics, such as social presence, blogger outreach programs, content marketing, and blog posting.
However, press releases do not hold as much SEO value as they did years ago.
Google began recognizing that companies were using press releases as an opportunity to gain backlinks.
Google Analytics
Google Analytics gives you a clear idea of how visitors arrive at your website. You can also track referral traffic, which comes from other websites linking to yours.
This way, you can see which pages are driving traffic to your website. You can also track which sites are sending traffic to your site by clicking the links on those websites.
Each time someone visits your site, Google Analytics records a session. A session starts when a user first enters your site and ends when they leave it. If the same user returns more than once, this counts as two sessions.
Using this method, you can track the number of page views for any given visitor.
Another way to track the success of a particular traffic source is to look at the bounce rate and time spent on page.
The bounce rate tells you how long the visitor stays on your website, and the time spent on the page can help you determine which marketing campaigns are effective.
Once you've set up your Google Analytics account, you can start viewing your stats. You can add other people to view your data by providing them with their email address.
You can also grant them administrator-level access to your Google Analytics account. Once you have a few people viewing your statistics, you can start presenting them with the results.
Creating Digital Ads
Digital ads allow you to target a specific audience based on age, gender, interests, and education levels. You can also target specific audiences based on the data on your website. For example, you can target people who are interested in buying a particular product, but are unlikely to purchase it.
Social Media
Social media marketing can help you build a following and boost your website traffic, but it also requires a lot of work. You'll need to create valuable content, get your posts published, and network with other sites to increase your exposure.
In order to gain traffic from social media, you need to stay consistent. You can do this by posting regularly, which will increase your chances of being seen.
One way to build a strong social media following is to engage in conversation with your target audience and create relevant content.
Often times, people will comment on your posts, but you must engage with them in order to gain their trust and convert them into buyers.
The best way to engage with your audience is to ask questions and give relevant content. Then, analyze their feedback and adjust your strategy as needed. You can even offer incentives for them to purchase your products and services through social media.
The time of day that you post is another important factor. Many people will dip in and out of social media throughout the day, so the more frequently you post, the better.
However, if you're trying to get traffic to a specific website, try posting at times when people are most likely to visit your page.
Another way to increase social media traffic is to be active in social media groups. Joining social media groups and engaging with other members will help your audience find your website and read your content.
In addition to groups, you can also engage with your audience in discussions on relevant topics. Most social media platforms have group features that you can use to join and interact with others.
To maximize the use of social media, you should create content that is easily shared and read. Include social share buttons on your website and include multimedia.
You should also track your click-through rate to ensure that people are actually clicking through to your content.
If you're looking to increase your website traffic, you should consider incorporating social media advertising into your marketing strategy.
This type of promotion can be platform-specific and include a quick redirect button to your website. While it's not easy to get people to click through from a social media page, you can increase your website's exposure by utilizing paid social.
While social media does not generate as much traffic as search engines, it's a useful tool for expanding your audience and improving conversion rates.
In addition, by creating useful content and offering quick links to your website, you can attract people's attention. However, you should note that social media does not produce instant traffic, and it's important to be patient with it.
If you can follow these steps, you'll see positive social media traffic.
As with any type of marketing strategy, consistency is key. In social media, you should monitor your inboxes and post regularly to keep your audience engaged.
Social media management tools are a great tool for staying on top of your social media game. These tools also help you lead through single-stream inboxes and niche content.
It takes time to gain visibility and gain traffic through social media, and you need to be consistent in your posting frequency. You should also keep a track of your competitors' posting frequencies. This can help you determine when is the best time to post.
Once you have identified the social media channels you want to use, you should perform a social media competitive analysis.
This will help you identify which channels are giving your competition the most exposure. It'll help you gauge which social channels are most effective and generate the best ROI.
There Is A Great Training Platform Where To Get Educated On Social Media Marketing.
---
Creating A TikTok
Creating a TikTok account is a great way to get traffic to a website. The platform has a massive organic audience and offers massive engagement.
All you need to do is set up a TikTok page and place a link to your website in your bio. This way, you'll have greater control over your audience, which will help you engage with them without spending any money.
In order to add a website link, you need to have at least 1,000 followers. Without this number, your website link won't work. If you're using a URL shortener, you can paste it into your bio. If you're using affiliate links, you should use a link shortener so people can easily click on them.
When creating a TikTok account to drive traffic to a website, it's important to think like the audience. Think about your content as a trailer or teaser.
If you're selling a travel itinerary, for example, you can create a TikTok video that showcases your itinerary and link it to your full itinerary.
---
Creating A Snapchat Video
Creating a Snapchat video for your website is a simple way to promote your business. The application allows you to upload images or video footage and customize the duration.
You can also add text or emojis. In addition, you can add different elements to your snaps, such as filters and shapes. After recording your snap, you can export it as an MP4 file and share it with your followers. You can also upload a logo and other dynamic elements to your video.
Using Snapchat is particularly effective when you're offering special content. This will give customers a unique look at your brand. For example, fashion brands have used Snapchat to showcase their new collections.
It's also a great way to showcase new products and services. Snapchat users can also comment on a blog article, or share content from your website.
You can use Snapchat's filters to make your ad more interesting. For example, you can use a filter to show the exterior and interior of a new vehicle.
These filters will help you sell your products and increase traffic to your website. Other ways to use Snapchat to increase website traffic include sharing product images and educational tidbits from your blog.
You can even add links to your blog posts to drive more traffic. For more in depth training on social media marketing, Go Here!
---
Do You Use A Secret Weapon To Get Traffic?
Then I love to hear about your methods. Maybe you have tried out something I have mentioned in this article? Maybe I have forgotten something?
If so, please let me know. If you like this article, please like, share and comment. If you want to be the first one get informal articles like this, please submit your email address down below.
All the best,
Fred.
---
Affiliate Disclosure
This page may contain links to affiliate websites, and I may receive an affiliate commission for any purchase made by you on the affiliate website using such links. This commission will in no way change the cost to you.
I just want to be fully transparent with you, I may or may not purchase this product/program myself.
I have researched the website, testimonials and information on the internet to get to the bottom of what this product genuinely does, what it provides for you and if you should use your money on it.
This is because I have been burnt from products just like this in the past and I want to prevent others from making the same mistakes.
Disclaimer
This website is owned and operated by an independent affiliate and is not endorsed by any company or individuals.
Any opinions expressed on this website are made by and the responsibility of the owner only.
Statement and opinions should not be construed as a representation of the opinions of any company or other individuals.
Income Disclaimer
There are no guarantees regarding income from any of the products or the opportunities represented on this website.
The success or failure of each affiliate, like in any other business, depends upon each affiliates skills and personal effort.
Earning levels for independent affiliates are examples and should not be construed as typical or average.
Income level achievements are dependent upon the individual Affiliates business skills, personal ambition, time, commitment, activity, and demographic factors.